Do you know where to best prioritize your ressourcers including significant threats from the surroundings?
Desire
... to perform a quick and efficient review of your strategy and risk positions?
... to obtain an action plan increasing long term ability to survive, competite and be profitable?
... to reduce your company's vulnerability in times of uncertainty and volatile change?

A survey by the Copenhagen Business School with input from 160 managers with strategic positions in Denmark's largest companies showed that more than half had experienced at least one major "blow" in their business over the past five years.
These results are consistent with an IBM global CFO Study in accordance to which 62 percent of enterprises with revenues exceeding US$ 1 billion had encountered material risk events and half admitted they were not well prepared! Furthermore, 85 percent of risk types resulting in market capitalization declines exceeding 30% or greater were non-financial in nature.
Do your management team agree on goals and means?
Maybe you have a desire for a process aimed at developing your management team strategically, to create a shared risk awareness, or to kick-start a team, which have lost momentum?
Do you want to optimize your sales portfolio?
Key success factors for sales should take in consideration the quality of the sales funnel and its progress. Using a structured sales qualification process helps determine which customers are the most valuable and profitable, and those most likely to purchase the product or service. Furthermore, don't spend a lot of time and resources with customers that can or will not buy from you.
Optimizing your sales funnel by:
- Identify the business potential of each sales opportunity;
- Isolate customers with unattractive behavior;
- Identify customers which fits the company's strategies;
- Identify which are winnable;
... and subsequently focusing on the best.
The Freedom2act™ Sales Opportunity Management tool increases sales success through systematic qualification, planning, and managing progress to target the most valuable and profitable sales opportunities.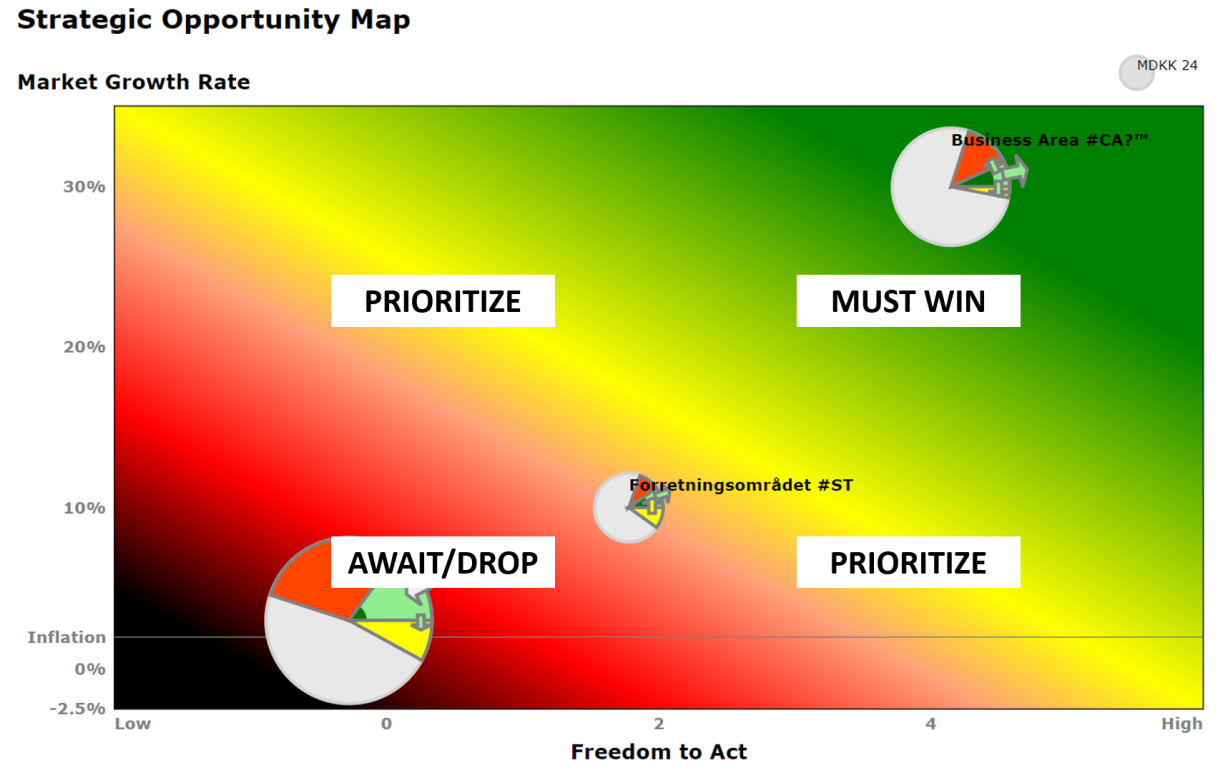 The Freedom2Act Strategy Review is a powerful platform for implementing strategic planning and risk management processes. It helps to quickly and efficiently identify and appraise the strengths and weaknesses of businesses and helps generate an detailed action plan aimed at increasing the business' freedom to act by opening up for new strategic perspectives for the business, and reducing the effect of critical risk factors.
A Freedom2Act Strategy Review reduces the time spent by management by a factor 3-5 compared to traditional methods. Questions and multiple-choice answers are adapted to each individual business and a computer supported process guarantees a high quality of the results.